'Trust in the Lord with all your heart and lean not on your own understanding' Proverbs 3:5
Dear friends,
We would rather it was not true, but the Coronavirus (COVID19) is coming our way and you may be one of those who has to self-isolate for a time, either 14 days or 12 weeks.
For many in that situation, you will have friends and family who can help with shopping, but if you're alone it could be a difficult time.
We are in the Aberkenfig area, and we would love to help.
As long as we're healthy, we'll happily do your shopping, pick up medications or help you with posting mail etc.
It will be our way of showing the love of God to our neighbours, so our help will be FREE.
We'd also be happy to keep in touch with you during your self-isolation to help combat the loneliness you may feel.
You can contact us via Facebook or Instagram (Church of God Aberkenfig), however we do appreciate that not everyone uses social media, particularly the elderly who are at most risk.
If you know of someone who needs help please tell them about our offer, seek their permission for you to give us their phone number, and we'll get in touch.
___________________________________________________________
In addition to help from the church, we are involved in running the CAP (Christians Against Poverty UK) Debt Centre and may be able to help you with any financial worries this crisis is causing you.
You can call 07508 870899 or e-mail nicolathomas@capuk.org
Everyone is feeling a little scared right now, with the fear of the unknown… but there is a God in heaven who knows what is going on, and we will be praying that He looks after you.
Thank you. x
'Trust in the Lord with all your heart and lean not on your own understanding' Proverbs 3:5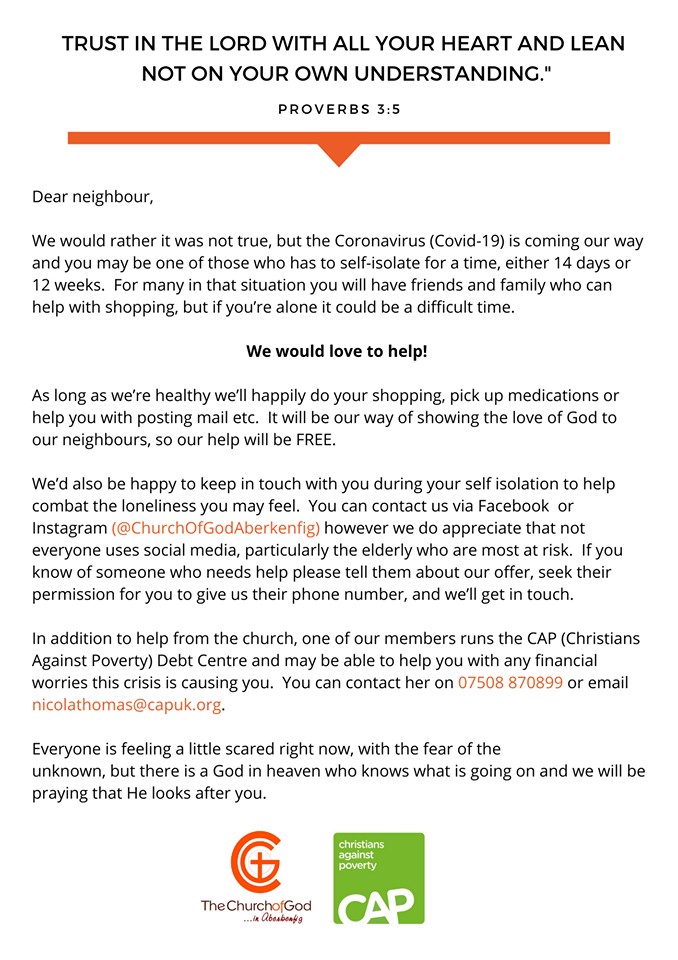 #CoronaVirus #COVID19 #Aberkenfig #Help #Advice #Medication #Shopping #Neighbours #Community #Poverty #SelfIsolate #Friends #Family #Loneliness #Love #Support #Wales #Cymru